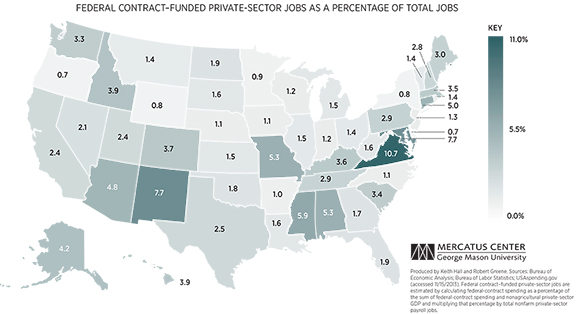 NM is 2nd-highest in private jobs financed by federal contracts
New Mexico's reliance on government jobs seeps into the private sector.
Researchers at the Mercatus Center at George Mason University say New Mexico had the second-largest percentage of private-sector jobs that are financed by federal contracts. The total was 7.7 percent.
Only Virginia was  higher at 10.7 percent. Maryland, like New Mexico, was at 7.7 percent.
True private-sector jobs -- those which are not financed by government -- make up 68.1 percent of all jobs in New Mexico. That is  the lowest percentage in the country, according to the George Mason researchers.
Rounding out the top five states in term of private jobs tied to federal contracts were Mississippi and Alabama.
The five states with the lowest percentage of private jobs dependent on federal contracts were Oregon, Delaware, Wyoming, New York and Minnesota.
The George Mason University researchers who compiled the statistics work were Keith Hall and Robert Greene.